UK Tourist Visa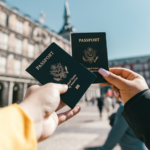 October 17, 2016
Muldoon Britton have made a number of successful visa applications for US based clients. One client wanted to visit the UK on a tourism visa to visit her daughter. However, she was a bit cautious as she had been convicted of a criminal offence for driving under the influence of alcohol.
Muldoon Britton managed to secure her a visit visa by ensuring that all details and the correct paper work was submitted on behalf of the client.
Muldoon Britton have an experienced UK Immigration team based in New York. If you have any immigration queries, please contact us here or by telephoning +1 212 653 0677.
Get in Touch
With years of experience working in UK immigration and British nationality law, our advisors can help you understand the process and take the right steps to obtain your visa. Get in touch today.
Get Started